Jacobson Design LLC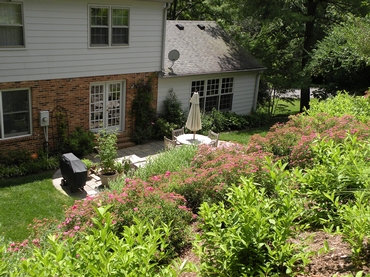 For over 15 years, we have been designing, installing and caring for customized gardens in the Greater Washington DC Area, primarily in Arlington, McLean and Great Falls. Every one of our projects is unique, each addressing the client's individual needs and particular sense of aesthetics while blending harmoniously with the surrounding architecture and natural environment.
Our clients lead very busy lives, so we put a high premium on the use of their time. We listen carefully, explain clearly and respond promptly. We want you to enjoy the process as much as the final product.
We are passionate about the environment and believe that beauty and conservation go hand-in-hand. The most attractive gardens are often the most sustainable gardens. By focusing on creating healthy soils and making appropriate plant recommendations we minimize the need for irrigation as well as the use of chemical fertilizers and pest controls.
By enhancing the appearance of your property, a garden should add value but it should also be a place to celebrate the natural world. Whether it is used as a private sanctuary, a gathering place for family and friends or simply viewed in passing a garden should inspire you to slowdown, to relax....to linger.