Maintenance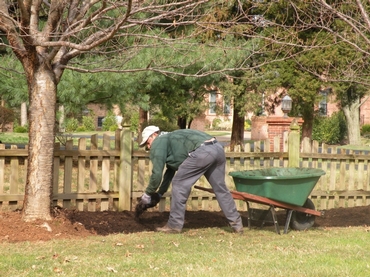 We offer periodic or regularly scheduled expert care for your garden throughout the growing season. Good plant maintenance begins with correctly identifying your plant material. Based on that identification we provide hand-pruning, weeding and fertilizing specifically tailored to each plants needs.
We have a lawn service company. Can't they do the maintenance?
We encourage our clients to have their lawn maintenance company take care of their lawn and allow us to take care of their small trees, shrubs and perennials. The maintenace we provide differs from most lawn service companies in a couple of important ways:
We indivdually hand prune each plant instead of indiscriminately shearing.
We understand the dynamic relationships that exist between the various plants that make up your garden. This horticultural knowledge allows us to provide very specific maintenance to keep mixed plantings areas growing vigorously.
We are trained in the principals of landscape design which allows us to understand and maintain the proper proportions, balance, screening and views that makeup your overall landscape design.
How frequently do you provide maintenance?
We're happy to match our services to your needs.
For most of our clients we provide cleanup twice a year--spring and fall.
For some clients we provide pruning services as needed whether that's once a month or every other year.
Our regular maintenance clients are on a once a month schedule. We email them to confirm each scheduled service date and follow up with a summary of the tasks completed. They only pay for the time we spend in their garden. When there is less to do, we spend less time.
Do you maintain gardens designed or installed by someone else?
Yes, we're happy to work collaborately with garden owners to guide their garden's evolution and to maximize its original design intent.
How do you price your maintenance services?
Our goal is to provide efficient, horticulturally sound services based on our clients needs. We can price our maintenance services by the hour or by the job. We provide our monthly clients with an annual estimate and then bill them only for the actual time we spend on their site. With large, or one-time-only maintenance jobs, we prepare a Landscape Contract that specifies the total cost including labor and debris removal.