Maintenance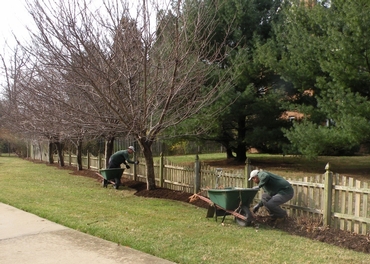 Monthly Maintenance
We offer periodic or regularly scheduled expert care for your garden throughout the growing season. By correctly identifying your plants and their growth patterns we offer hand-pruning, weeding and fertilizing that optimizes your garden's beauty and health.
Spring Cleanup
Scheduled annually in March or April our Spring Cleanup gets your garden ready for the growing season. Included are the following services:
Removing leaves and twigs that have come down over the winter or been purposely left to provide animal habitat during our coldest months.
Pruning off any winter dieback or broken branches from perennials, shrubs and small trees.
Hand-pruning of shrubs, roses and ornamental grasses to promote maximum flowering and to keep plants from becoming overgrown or leggy.
Fertilizing plants as needed based on scientific soil testing.
Weeding and cutting clean edges to planting beds.
Ensuring that all landscaped areas have 2 1/2 inches of shredded hardwood mulch. On request we are happy to mulch with shredded leaves, pine nuggets, or color enhanced black, or red mulch.
Fall Maintenance
Scheduled annually in October and November our Fall Maintenance includes:
Leaf cleanup from all lawn areas and from planting beds as needed. We do encourage our clients to leave fall leaves on planting beds to the extent that space and their aesthetic permits. This natural mulching helps insulate the soil, feeds beneficial microorganisms and provides food and nesting material for the native birds that remain here for the winter.
Mulching as needed to ensure that all ornamental plants have the necessary winter protection for their roots.
Removal of any diseased or broken plant material.
Division of perennials as needed and removal of all summer season annuals.
Installation of pansies for winter color and bulbs for early spring.
Special Events and Real Estate Staging
We welcome the opportunity to put our extensive plant knowledge to work helping you make your landscape perfect for a special day or to maximize your home's curb appeal as you get ready to put it on the market. We work closely with you to ensure that the work we undertake focuses on the most important areas of your garden, is specific to the season in which it is needed and stays within the agreed upon budget..