Installation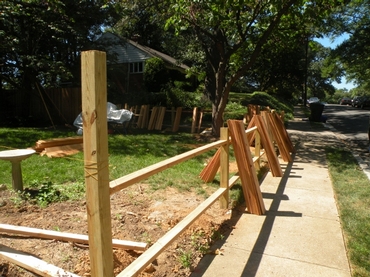 We specialize in bringing your landscape to life. We know how busy our clients' lives are so we offer complete project oversight. We manage all the installation and construction details as well as coordinate all the necessary tradesmen and material selections. Most importantly, we keep you informed along the way so if you have any questions or concerns they can be addressed immediately.
Planting Material
We hand-select every plant, not only to guarantee the highest quality, but to ensure that the plants used on your site meet the specific requirement of your design. This level of oversight allows us, with your approval, to make timely substitutions when the specified plant material is not available in the size or quantity needed. We oversee each plant's placement on the job site allowing us to adjust plant orientations to optimize the overall effect of the design.
Fencing, Pergolas and Arbors
Our services include design and installation of fencing, pergolas and arbors. These structures serve practical functions in the landscape, but they can also be significant design elements and are best done in coordination with the overall landscape design.
Masonry
Masonry elements are also part of our design and installation process. Walls, pathways, steps and patios serve essential functions in a landscape, but their placement and design should be developed in coordination with your overall landscape project so that they fit seemlesslly into the overall design. Finally, whenever possible we recommend that these structures be installed first to provide maximum site access and minimize damage to new plant material.
Irrigation
Irrigation is a critical consideration for any landscape. Our design philosophy is to utilize plants that, once established, flourish with minimal irrigation. Every client should anticipate watering new plants and transplants for at least the first growing season and often for a second. We work with our clients to provide them with an irrigation method that meets the needs of their landscape and their lifestyle. The possibilities range from complete automated irrigation systems to client activated drip systems to low tech garden sprinklers, Gator bags and soaker hoses.
Lighting
Lighting is an important safety as well as aesthetic component to the design of all steps and walkways and should be installed simultaneously. Ornamental lighting of plants and other garden elements can and should be done after the installation is complete. We are happy to work with you to incorporate illumination into your landscape project.