Design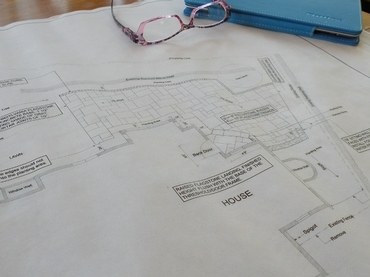 We want to match our design services to your needs so the first recommendation we'll make is whether you need professionally produced landscape Design Plans or simply a written Design Program. The Design Program takes a couple of hours to produce while Design Plans, which are detailed drawings similar to architectual plans, can take 12-45 hours depending on the complexity of the project. The steps we follow are the same for both Design Plans and Design Programs though in the case of Design Plans they are much more extensive and detailed.
Design Assessment
We meet on-site to assess your property, understand the scope of the project and discuss your priorities. We'll make a specific recommendation on how to proceed and provide you with a written contract for your approval.
Site Analysis
This analysis of your specific site is what drives our landscape design. We'll start this analysis utilizing your site plat which delineates property lines, structure locations and easements. Based on the scope of your project we will gather the necessary information regarding soil conditions, drainage issues, elevation changes, sunlight exposure and wind directions. We'll also measure the exact locations of existing plants and hardscape features.
Preliminary Design
This is the beginning of the creative process by which we take the site analysis information, overlay it with your landscaping goals, compare that with our knowledge of available plant and hardscape materials and begin to develop an overall design. We'll schedule another meeting with you to get your feedback on the Preliminary Design before proceeding with development of the final Design Plans.
For smaller projects and projects that involve only plant installation we'll use this Preliminary Design to produce a written Design Program which will include installation costs.
Design Plan
Once we have your input on the Preliminary Design we'll incorporate that information into the the final layout and produce your Design Plans which will include a detailed plant list , hardscape specifications and installation notes. The Design Plans will also be accompanied by a Landscaping Installation Proposal that will specify the costs to have the design professionally installed.
Costs
The cost of Design Plans usually run between $850 and $3,500 depending on the complexity of the project. If your project requires Design Plans we will provide you with a Design Contract specifying the total cost of preparing those plans within ten days of our initially meeting. This Design Contract will specify the cost of the design work only. Pricing for the installation of the project will be provided at the end of the design process once the Design Plans are finalized.
The cost of a Design Program is $250 which includes our initial meeting, our landscape assessment and our production of the written proposal.