Installation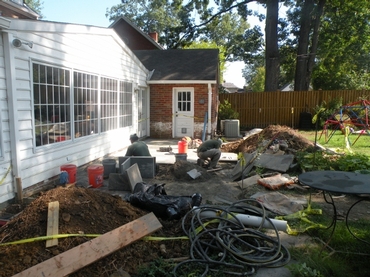 Once your landscape design work is complete you are ready for construction. Working from your Design Program or Design Plans we provide complete project oversight managing all the installation and construction details as well as coordinating all necessary tradesmen and material selections. Most importantly, we keep you informed every step along the way so if you have any questions or concerns they can be addressed immediately.
Masonry, Carpentry and Fencing
These tasks are performed by qualified, licensed tradesmen who we have worked with for years. We confirm all material selections before construction begins, and oversee the installation on a daily basis. We make sure that you are kept well-informed on the subcontrractor's progress and we handle all your questions or any necessary adjustments during construction and after the work is completed.
Plantings
We take great pride in our planting projects and we strongly believe that their long-lasting sucess depends on proper soil preparation. Before any plant goes into the ground we make sure that sufficient organic material is mixed into the soil to guarantee proper drainage and to provide natural fertilization during the first growing season.
We hand selected all our plant material to guarantee the highest quality and to insure that the specimens chosen for your job fit the specific needs of your project. We then oversee the installation of every plant to guarantee that it is placed at the proper soil depth and that its particular branching pattern is oriented to best complement the overall landscape design.
Irrigation
We offer several options for irrigation. Everything from low-tech Gator Bags, soaker hoses and lawn sprinklers to homeowner operated drip systems to fully automated irrigation.
Lighting
We also offer a range of options for outdoor lighting.